Accessoires New In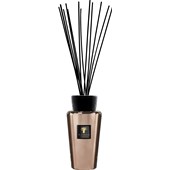 Accessories for everyday pampering
It's the little things that sweeten our everyday routines. Beyond your morning and evening skincare rituals, it's the little treats giving you pause that make each day different from the next. Accessories, enchanting little things for home, work and the journey in between bring pampering to your day.Parfumdreams offers a range of accessories online to complement your fragrances and skincare. Treat yourself and others to bags, robes, home designs, hair accessories and more. Buy accessories right here in our online shop.
Bathroom accessories for your private oasis
Whether at home or away, our self-care rituals by the sink or in the shower offer a few minutes removed from the stressful everyday. Do something good for yourself and create an environment that is an experience with our line of beauty accessories for your bathroom. Catch your own eye with our 10x magnification mirrors, elegant and helpful as you prepare for your day. Look sharp with our luxurious shaving brushes and accessories. Turn your daily shave into pampering. Daily routines don't have to be dull when you give yourself and others accessories that are as elegant as they are practical.
Chic travel accessories for luxury anywhere
Whether a practical pocket-sized atomiser, brush bag or weekender, Parfumdreams exclusive travel accessories keep everything you need at hand. Our range brings convenience and stylish aesthetics together. Packing becomes a pleasure when you're using our curated pieces. The journey becomes the destination when you travel with accessories that mean something.
Lifestyle accessories for aromatic wellbeing
Fragrances and aromas create at atmosphere in how we present ourselves and our spaces. They influence our own well-being. Depending on your mood or season, our home fragrances set your scent scene. Light and summery or seductive and comfortable, our delicate fragrances transform your home. Luxury scented candles from Acqua di Parma or Etro and more add another dimension to your home design aesthetic. Sunny orange, inviting caramel combine for spicy aromas or cozy Christmas scents. Parfumdreams' exclusive candles are more than a decoration. Essential oils are a balm for the soul after the stresses of the everyday.
Jewels to treasure your routine
A well-groomed appearance, delicate make-up and accessories all come together to create your unique look. Jewelry connects personal care to personal style. Whether fashion jewelry for trendsetting or precious gold and silver, Parfumdreams has designs for every budget. A statement necklace or delicate bangle, stud earrings or cocktail bauble, buy accessories online here at Parfumdreams.