Extreme Power Men's fragrances by Adidas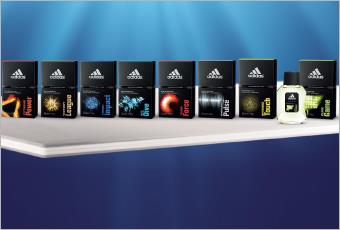 Extreme Power from the House of Adidas is a perfume and care series with a masculine and equally sensuous fragrance. Lemon aromas ensure a pleasant sporty freshness in the top note. The base note underscores the masculinity with extracts of patchouli, tonka beans, sandalwood and white cedar wood. A coffee accord supported by the mildness of geranium and the tangy taste of Granny Smith apples ensures a special kick in the Extreme Power care series.
Men's fragrances from the House of Adidas for daily sporty freshness
The care and fragrance series was developed for man who love sporty and fresh fragrances. Extreme Power is thus available as fresh shower gel, aftershave, deodorant and eau de toilette spray. The men's fragrances and care products from the House of Adidas are suitable for men with normal skin and dispense a long-lasting masculine fragrance every day.
Extreme Power by Adidas