Color Shampoo by Alcina
The Color Shampoos from Alcina will bring a new brilliance to your hair colour and make it shine onc…
Learn more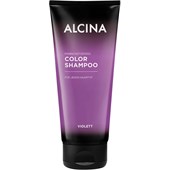 AlcinaColor Shampoo Color Shampoo Violett
€10.41
/ 200 ml
BP: €52.05* / 1000 ml
Color Shampoo Hair care by Alcina
The Color Shampoos from Alcina will bring a new brilliance to your hair colour and make it shine once again. They are suitable for coloured hair, highlighted and natural hair. This mild haircare product ensures vivid lustre and refreshes the hair colour simply by washing. The summer holiday in particular can leave our hair looking exhausted and lacking strength. The sun as well as sea or chlorinated water can damage the hair and rob it of its multifaceted shine. The Color Shampoos are the optimal solution for stressed hair. They treat the hair with active ingredients and provide new radiance. The haircare shampoos cleanse the hair with their gentle nourishing formulas and contain active colour pigments for an amazing shine. Haircare can be so easy and so effective!
Amazing colour and beautiful shine: refresh your hair colour by washing
The colour refreshment products from Alcina are available in different colour tones: The Color Shampoos in gold, silver, red, brown and copper protect the hair colour and intensify shine with every wash. The haircare products stand out through their gentle nourishing formulas and are suitable for daily use. The Color Shampoo is massaged into wet hair and is then rinsed out thoroughly. Afterwards, the hair can be styled as usual. For an intensive nourishing effect, it is recommended that you leave the shampoo in the hair for 5 to 10 minutes. With the Color Shampoo from Alcina, you treat your hair to an extra portion of care and refresh your natural or coloured hair tones.