Oily to combination skin by Alcina
If you have oily or combination skin, you probably have to battle constantly with blackheads and spo…
Learn more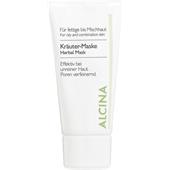 AlcinaOily to combination skin Herbal mask
BP: €292.20* / 1000 ml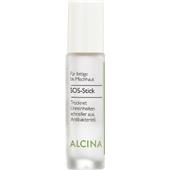 AlcinaOily to combination skin Sos-Stick
BP: €1,012.00* / 1000 ml
5/5 AggregateRating
Oily to combination skin Skin care by Alcina
If you have oily or combination skin, you probably have to battle constantly with blackheads and spots. When the skin produces too much sebum, the pores can clog up quickly. Also, the face can become very shiny quite quickly and no amount of make-up and powder can help. On the contrary, covering products can just make the blemishes worse. So Alcina has developed a very special range of products for oily and combination skin. The various products, which can be combined to great effect, regulate the production of sebum, reliably mattify the complexion and, in this way, fight impurities and blemishes. The skin is simultaneously provided with moisture because it is a common misconception that oily skin has hydration enough. It is often just the opposite.
Glowing, clear skin in the blink of an eye
Alcinas cosmetic line for oily and combination skin comprises various cleansing products, including gel, foam or milk, which contain, for example, zinc, aloe very and panthenol. A facial toner will refresh the skin after cleansing. The active peel, which can be used once or twice a week, also contributes to the pore-deep cleansing of problem skin. Special products such as the AHA facial fluid with fruit acids or the herb mask with lavender oil are the perfect complementary products to bring your skin back into balance. With this line of products, Alcina has developed the ideal care programme for oily and combination skin, which not only regulate the production of sebum and mattify the skin but also reliably provide the skin with moisture.