Nails by Astor
In addition to nurturing and decorative make-up, the
Astor
beauty lines offer elegant colours…
Learn more!
Nails Make-up by Astor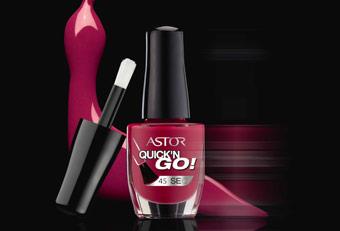 In addition to nurturing and decorative make-up, the Astor beauty lines offer elegant colours for beautiful nails. Classic colour tones with timeless flair unite in the cosmetic line's nail polishes with the stylish trend colours of the season to form a colourful selection that offers the right colours for every type.
Elegant nails with Astor
Whether you prefer a sporty style of clothing with clearly polished nails or choose your nail polish to match your elegant dress for the major gala: The right nail polish is the icing on the cake for a woman's well-groomed appearance and complements the facial make-up with glossy highlights for the hands. Discover your new favourite nail polish among the products of the high-quality cosmetic brand and use the appropriate nail polish remover to make the colour disappear without a trace as the nurturing end to the day.