Rose in Wonderland by Atkinsons
Just a few splashes of the Rose in Wonderland Perfume are enough to send women on an exciting journe…
Learn more
Rose in Wonderland The Contemporary Collection by Atkinsons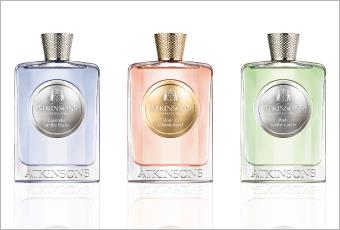 Just a few splashes of the Rose in Wonderland Perfume are enough to send women on an exciting journey through the Wonderland. At least that is how the succinct Atkinsons fragrance in The Contemporary Collection seems just a few moments after it sprays its very delicate and floral notes on the skin. The Rose in Wonderland creation was a new release in 2014 and comes in a delicate rose flacon, perfectly rounded off by the golden imprint and matching stopper. This feminine impression is only supported even more by the fragrance, as the latter has such a delicate, soft and always incredibly friendly effect.
A journey through the fragrance wonderland
The Atkinsons perfume is based on the unique effect of the rose, with the latter being so impressively combined that it has a very grounded, strong and unmistakable effect. This fragrance from The Contemporary Collection Series can in all conscience scarcely be compared with other rose fragrances, as the delicate flower is completely reinterpreted and recombined here. An effective duo in the top note is responsible for the overture. Here, the rose is combined with the black currant, in order to contrast fruity accords with very delicate and floral nuances in this way.
A unique rose with a just as unique effect
The Rose in Wonderland perfume from the House of Atkinsons goes straight to the next rose in the heart note. This time the rose plucked in Provence is mixed with geranium, thus giving the floral effect of the creation from The Contemporary Collection Series even more support. The base note then for once dispenses with the rose and instead uses warm and natural fragrance accords. Here, a defined framework of amber cloaks vetiver, in order to allow this fragrance a perfect finish. The result is a feminine, unmistakable and unbelievably elegant women's fragrance.