24 Old Bond Street by Atkinsons
"The sinnbildliche Kollektion", as the Emblematic Collection" is called in translation, also include…
Learn more!
24 Old Bond Street The Emblematic Collection by Atkinsons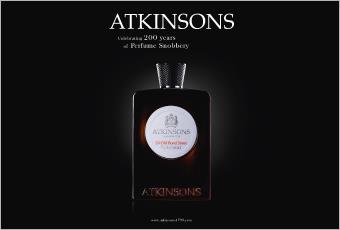 Perfume in the Atkinsons Emblematic Collection is simply impressive
"The sinnbildliche Kollektion", as the Emblematic Collection" is called in translation, also includes the 24 Old Bond Street line. The fragrances in this line are rather spicy and fresh, mixed with a touch of black tea and a shot of whisky. The fragrance stands for the emblematic British way of life, the style, the feeling and, of course, the flair of ""sophisticated Gentlemen"". A touch of black tea with a shot of whisky, juniper berries and delicate roses form a pleasantly masculine fragrance that simply impresses.Of course, in addition to the perfume, The 24 Old Bond Street range also includes a care line with aftershave, shower gel and body lotion. In addition, Atkinsons with the famous bear logo, has also created a wonderful black scented candle and a noble soap. You can thus cloak yourself in the fragrance of the British Empire, freshly and modernly interpreted in The Emblematic Collection, all day long. The 24 Old Bond Street Collection is just perfect for all men who are confident in themselves and proud of their masculinity.