Nautic Spirit by Baldessarini
Nautic Spirit from Baldessarini is meant to be reminiscent of the far reaches of the ocean, of holid…
Learn more
Nautic Spirit Men's fragrances by Baldessarini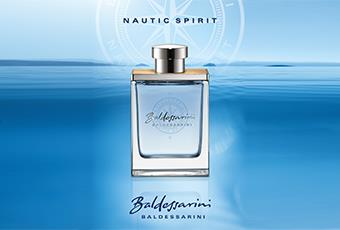 Nautic Spirit from Baldessarini is meant to be reminiscent of the far reaches of the ocean, of holidays and good weather. For this, the fragrance uses specifically targeted nuances, typical for sand and sea. The fragrance range was updated in 2014 and contains, amongst others, the traditional Eau de Toilette Spray as well as other products such as an After Shave, a Deodorant and a Shower Gel. All products from the Nautic Spirit range are stored in a pleasant, shallow blue, reminiscent of the ocean and a cloudless summer sky.
The perfume with holiday spirit
The men's fragrances from Baldessarini are known for their friendly core, and Nautic Spirit is no exception. The perfume combines top notes of seawater, passion fruit and mango whilst its essence consists of cardamom, ginger and curry leaf. This fresh prelude is therefore expanded on with a characterful and somewhat spicy combination of individual ingredients. At the bottom of the fragrance you'll find sandalwood. Musk and patchouli. If you already own a lot of typically masculine men's fragrance, then this holiday fragrance could be a wise and welcome addition to your collection.