An Urban Original 2 Women Women's fragrances by Bench.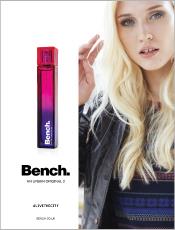 Bench. has started to manifest itself as an international brand for high-quality perfumes only within recent years and offers appealing fragrances for men and women alike. In the women's fragrance range the perfume house introduces its leading product line An Urban Original 2 Women which includes various articles. The fragrance deliberately targets the preferences of young and trendy women, who expect a sophisticated and tangy note in a women's fragrances and want to wear it at a variety of different occasions. Our shop invites you to become acquainted with this fragrance and offers the perfume by Bench. to a tempting price.
Enjoy an urban and feminine flair with Bench.
An Urban Original 2 Women is offered in an oblong flaçon in violets and blues as a pure eau de toilette for women. Available in sizes of 30 ml or 50 ml, the women's fragrances go a long way and can be worn at everyday and special occasions alike. The elegantly designed atomiser fits perfectly in every handbag and is a faithful companion, ideal for applying the exiting fragrance at just the right moment. A fresh and typically feminine note embraces the wearer and awakens the desire to apply the fragrances by Bench. time and again.
Experience the Bench. fragrances in your skincare products.
Like many fragrances of the company, Urban Original 2 Women is not only offered as a classic perfume. The product line also includes a refreshing shower gel, which enables women to start their day with a freshness equal to that of the classic perfume. Of course both articles from the An Urban Original 2 Women edition are perfectly matched to each other and are the ideally combinable companies for every day. At our shop you can order the special fragrances of this international perfume house at attractive prices; or browse the shop for further global brands!
An Urban Original 2 Women by Bench.