Basic Black Women's fragrances by Bill Blass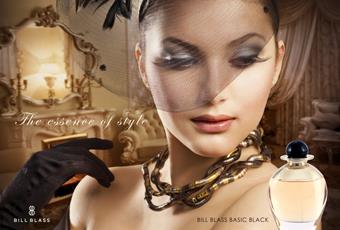 The timeless fragrances by Bill Blass have build up a reputation as elegant creations which none of their uniqueness and outstanding features over the years. Basic Black is further proof for the relevance of this praise. The perfume not only impresses with its outstanding commercial success but also with the sheer amount of time that it has been on the market. The line's fragrance was created in the year 1991, celebrated its 23th anniversary in 2014 and is still being produced. Like all women's fragrances by Bill Blass the scent is an ode to feminine elegance.
An elegant fragrance for women with taste and style
The Basic Black Akkorde form the prelude with a combination of plum, peach, mandarin orange, exotic ylang ylang, fresh bergamot and cardamom. In the middle note this fruity concoction is complemented with soft and subtle nuances, including honey, flowery jasmine, coriander, rose, tuberose, violet and classic carnation. The floral bouquet with the fresh emphasis of fruit is rounded off in the base with coconut, musk, amber, sandalwood, civet, vetiver and styrax. Et voilà - the result is a unique, cultivated and unforgettable fragrance.
Basic Black by Bill Blass