Nude Women's fragrances by Bill Blass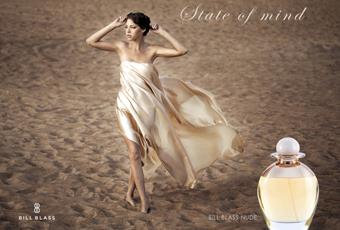 The Nude line by Bill Blass has become a timeless classic in the world of women's fragrances. Although the name may suggest otherwise, the fragrance is not at all "nude". It is much rather full of numerous different ingredients which complement each other perfectly and envelop women in a unique scent. The ideal companion for all occasions. Nude perfume is supplied in an unpretentious flaçon crowned with an elegant cap.
Timeless elegance for women with a sophisticated taste/h2>The eau de cologne spray from the Nude line by Bill Blass was created in the year 1990 by the parfumier Sophia Grojsman. 25 year later this fragrance line is still being successfully produced and marketed thanks to its lasting popularity. The line's top note consists of aldehyde, fresh bergamot, rosemary and galbanum, whilst the middle note captivates with soft rose, floral jasmine, lichen, daffodil and oriental ylang ylang. The perfume's final touch is its base note in which Bill Blass successfully combines musk, iris oil, vetiver and sandalwood.
Nude by Bill Blass