Body Care Skin care by Carita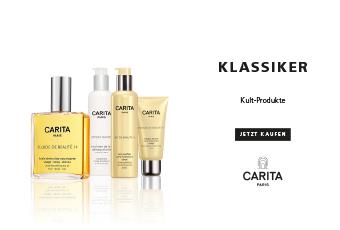 Beautiful skin needs the right type of care which gives it moisture and vital nutrients. As a manufacturer of extraordinary cosmetics and co-ordinated care products, the Parisian Carita brand has been well-known for years and, with itsBody Care range, offers caring oils for demanding skin. Complemented by different vitamins and natural extracts, this Oil by Carita soaks into skin quickly and, when used regularly, ensures your skin looks gentle and smooth. The care product's ingredients are taken from maize germs or hazel nuts, for example.
Support your skin in a natural way with Oils from Body Care
Every one of Carita's care products places emphasis not only on the health of sensitive skin but also its appearance. The Oils from the Body Care product range therefore ensure a particular shin on the skin or give it a gold-brown shimmer thanks to the special pigments. Complemented by cosmetics from the French brand, women will feel comfortable in their own skin and can make a contribution to improving it. Other care product ideas from the Parisian brand can be discovered via the varied product ranges in our Online Shop!