Diamant de Beauté Skin care by Carita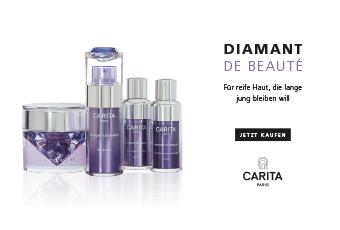 The beauty and clarity of a diamond is literally what the Parisian Carita brand is presenting with its Diamant de Beauté range which is aimed at demanding women with sensitive skin. Known for its range of specially designed cosmetics and gentle care products, Carita uses its care products to fight skin aging and give your face a smoothness you can feel. It is above all the skin around the eyes that can be improved with this Diamant de Beauté care product which, if used regularly, will rein in small folds and wrinkles.
Cosmetics and care products for protecting aging skin
Diamant de Beauté is deserving of its name thanks to the special appearance oft he flaçon and the packaging and will make the perfect, eye-catching addition to any bathroom shelf. In order to protect ladies' skin to the same level in several aspects against skin aging, the French brand manufacturer Carita offers Sets which come, for example, as a day and night cream which ensures a perfectly co-ordinated care combination. For well maintained skin that will look attractive for decades to come, it's worth taking a look at other product ranges from the popular brand which can be bought from us online at good prices.