Ideal Controle Skin care by Carita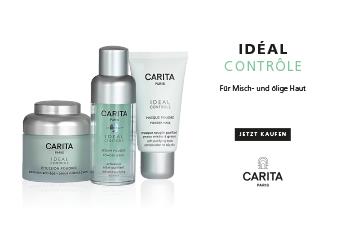 The Ideal Controle care range from Carita was specially developed for oily and mixed skin in order to better regulate and also balance out oil production. The range includes a total of five different cosmetics products which can be all be combined with each other freely. The care element is intended to ward off the signs of premature aging whilst also combating impurities. The "greasy" sheen which you often get with oily and mixed skin is efficiently tackled and prevented with these care products without drying out your skin. The products come from the heart of Paris and will amaze with their high level of compatibility.
Radiantly healthy skin thanks to the right care regime
It's often difficult for people with oily and mixed skin to find the right care products. One the one hand, you have to be aware of the oil content of your skin and on the other your skin can't be dried out since this would only increase oil production. These products, in a friendly green-white look, take on the challenge of this difficult balance and use natural extracts which have been proven in their effectiveness at achieving first-class results. Lotions and mousses act as preparation whilst the serious acts as an activator and emulsions and masques act as fortifiers.