Ideal Hydratation Skin care by Carita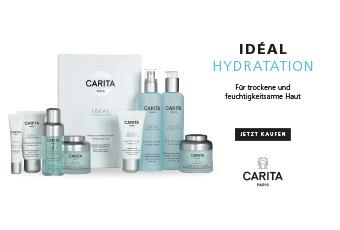 Many women are familiar with the problem of dry skin which looks brittle during the cold times of the year and less attractive. Environmental factors or warm air from indoor heating means that your whole body is sucked of moisture, which can potentially lead to quicker skin aging. The Parisian cosmetics and care products brand Carita has addressed this problem and offers a corresponding range of products in the form of itsIdeal Hydratation range. Like all of the brand manufacturer's products, these products serve to give your skin exquisite care which, alongside their caring characteristics, ensures and attractive and silky soft appearance.
Moisturise skin with Ideal Hydratation
Available as a cream, jelly or in the form of a skin toner, this Ideal Hydratation care product is suitable for daily use. You'll see and feel the difference after just a few weeks. Of course, Carita's care products can also be used specifically in the winter months, should your particular skin type be especially susceptible to drying out at this time of the year. Our Shop offers this product range as well as other items from Carita which range from high-quality cosmetics to care products for all body parts and are waiting for you to order them at good prices!