Progressif Anti-Age Solaire Skin care by Carita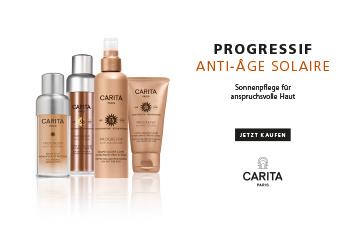 Solaire from Carita is a care product range which is intended to protect you from harmful UV rays. Although the sun is warming and pleasant, and gives you a health brown, too much can in fact be damaging to skin. It dries out the skin from the inside, creating cracks in the layers of your skin and also upsetting its natural moisture content. Therefore, skin must be protected in order to also protect it against premature signs of aging at the same time. Care products from the Solaire range include nearly a dozen different products which have sun protection factors and intensity to match the intensity of sunlight and your skin type.
The right cosmetic for spring and summer
Colaire from Carita is perfect for spring and summer. If you have a lighter skin type, you need to give your skin proper protection against strong UV-A and UV-B rays. These care products ensure an even complexion, remove unevenness and pigment abnormalities, hydrate skin and also have an additional calming effect. Sun protection factors range from a gentle 10 up to a strong SPF 50.