Progressif Cleansers Skin care by Carita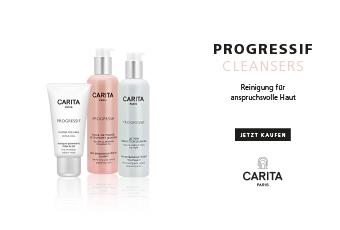 Protecting skin against the processes of gradual aging is one of the Parisian care and cosmetic brand's most important duties. With its Progressif product range, the manufacturer is primarily appealing to middle-aged women who have noticed the first signs of skin aging and want to minimise these using high-quality care products. The items in the Progressif care product range also act as a cosmetic, whilst using creams and lotions etc. regularly will make skin appear more attractive and give every Carita customer a more gentle feeling on their skin.
Care for aging skin properly and make it look beautiful
From additional moisture to rubbing in high-quality mineral ingredients and vitalisation with extraordinary essences, there is a huge range of effects that the Progressif range uses to combine care and cosmetics. The result will be visible for years and decades to come so that even in your old age, you can be sure of well-cared for and smooth skin. Our Online Shop lets you quickly get an overview of which other products Carita offers for women and which care products would be best for the weak points of your own skin, letting you then purchase these at a good price.