V Women by Clive Christian
Since the turn of the Millennium, Clive Christian has been a recognised supplier of truly luxurious …
Learn more
V Women Women's fragrances by Clive Christian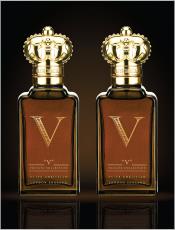 Since the turn of the Millennium, Clive Christian has been a recognised supplier of truly luxurious fragrances, with V Women the French quality manufacturer provides fragrances and meets the most sophisticated requirements of any woman. This edition is part of the perfumery's Private Collection, which was not originally designed for public sale and was only brought out as an exciting new perfume following pressure from the company's loyal clientèle. The name 'V Women' is inspired by Clive Christian's eldest daughter, Victoria, and for several years has been helping women to achieve the exclusive scent of this prestigious family.
Fruity perfume with exciting notes
Peach and bergamot stand out as V Women's top notes and lend the range a certain unique charm. Additional essences from jasmine and clove to sandalwood and orange blossom lend the fragrance a fruity and floral character that suits women of any generation. If you're looking for more than just women's fragrances, you might consider Edition C as a suitable men's fragrance. Our online shop offers many suggestions from the Clive Christian for Men and for Women range as well as one of our high end perfumes for a particularly reasonable price.