Amazingreen by Comme des Garcons
Comme des Garcons was founded as a Japanese fashion label at the end of the 1960s and also offers wo…
Learn more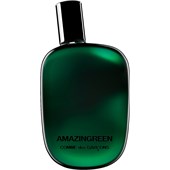 Comme des GarconsAmazingreen Eau de Parfum Spray
€63.75
/ 50 ml
BP: €1,275.00* / 1000 ml
5/5 AggregateRating
Amazingreen Unisex fragrances by Comme des Garcons
Comme des Garcons was founded as a Japanese fashion label at the end of the 1960s and also offers women's and unisex fragrances despite its masculine name. The latter of these fragrances includes Amazingreen, one of the international manufacturer's well-known perfume which has an exciting fragrance note. For over 20 years, Comme des Garcons has offered special fragrances in various editions that are valued equally by both men and women. In Amazingreen this is achieved with popular essences such as green pepper, ivy and iris which fit perfectly into the eponymous, green design of this fragrance.
Enjoy perfume from Comme des Garcons at good prices
Spirited and close to nature, Amazingreen ensures new energy and freshness every morning. Just like its other unisex fragrances, the internationally renowned label offers this perfume in an unusual design that is striking not only because of its distinctive green shade but will also brighten up any bathroom. You can order via our Online Shop at particular good prices and what's more these fair conditions also apply to other unisex fragrances as well as special women's and men's fragrances from the label. With these striking fragrance notes you too can dive into the free, wide expanses of nature.