Blue by Comme des Garcons
Unisex fragrances have become a specialty of the Japanese fashion label, Comme des Garcons, which si…
Learn more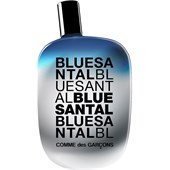 Comme des GarconsBlueSantalEau de Parfum Spray
BP: €1,149.50* / 1000 ml
5/5 AggregateRating
Blue Unisex fragrances by Comme des Garcons
Unisex fragrances have become a specialty of the Japanese fashion label, Comme des Garcons, which since the 90s has been adding to its fashion collection with exciting perfume. With the Blue product range, men and women can both get special essences which capture the scent of the sea and provide real refreshments every morning. Aromas such as amber or cinnamon give the perfume a particular note and are the ideal choice for starting your day fresh and full of energy and wowing people at work and at home with an exciting fragrance.
Experience the unisex fragrances of Comme des Garcons at good prices
Thanks to its fresh and lively character, Blue is valued above all as a summer perfume that helps to cool you down immediately after being applied. A highlight of another kind is the flaçons which the unisex fragrances come in, with their striking lettering which will draw everyone's attention without fail and give every bath something a bit unusual. The fact that fragrances such as Blue by Comme des Garcons are affordable for everyone is very apparent in our Online Shop and will convince you to place an online order!