Floriental by Comme des Garcons
Unusual unisex perfumes that are not part of the fragrance mainstream are characteristic of the Comm…
Learn more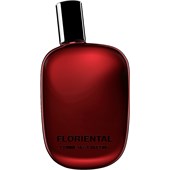 Comme des GarconsFloriental Eau de Parfum Spray
BP: €1,699.00* / 1000 ml
Floriental Unisex fragrances by Comme des Garcons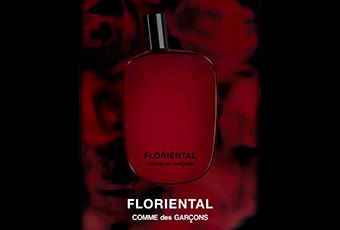 Unusual unisex perfumes that are not part of the fragrance mainstream are characteristic of the Comme des Garcons brand. With Floriental, the label presents a woody, smokey fragrance creation full of contrasts, complex and yet perfectly balanced. This perfume does not have a clearly defined top, middle and base note but rather unfolds a creative ensemble of various perfume notes. Spicy labdanum, a resin extracted from the branches and leaves of the rockrose, gives the scent its eponymous oriental character. Pink peppercorns provide for an exciting tingle, whilst vetiver brings a bitter, woody note. A strong sandalwood chord that warms the senses unfolds more and more. This is underlined by plum liqueur. The floral nuance of plum rounds the perfume off, allowing it to radiate intensively and extravagantly. Like many unisex fragrances from Comme des Garcons, Floriental also has a characteristic frankincense note that underlines the mysterious impression the perfume makes.
An oriental, floral work of fragrant art


The secret of success of the Comme des Garcons perfumes is the unexpected tension and contrast, which breaks a lot of the traditional rules of perfume-making. This is also the case in Floriental: Spicy, woody and floral aromas blend in an unusual combination, and the fragrance seems both bright and dark at the same time. The individual ingredients add up to a multilayered, harmonious whole, and the result is a unique composition that stays in the memory. Floriental is suitable for everyday use as well as for special occasions and gives the wearer an aura of modernity.