D&G Parfum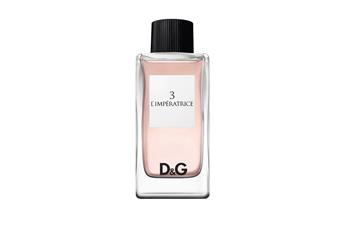 D & G – six fragrances, six characters
Extraordinary and resourceful - that's how the Anthology fragrance collection from both designers, Stefano Gabbana and Domenico Dolce, come across. Six fragrances make up the D&G Anthology range. The three unforgettable super models from the golden era of modelling, Claudia Schiffer, Eva Herzigova and Naomi Campbell, present these Eau de Toilettes together with the three seductive, masculine models, Fernando Fernandes, Noah Mills and Tyson Ballou.
Find the fragrance that highlights your personality
The collection from Dolce & Gabbana is inspired by tarot cards and each one of the unisex fragrances has different characteristics. The Eau de Toilette
3 L'Imperatrice
, the Empress, will turn you into a star in the evening sky and give you the special something.
Charming, unpredictable, dynamic or dreamy
The fragrance
06 L'Amoureux
, the Lover, from Dolce & Gabbana is perfect for irresistible charmers who transport others to another world with just their first smile.
10 La Roue de la Fortune
, the Wheel of Fortune, is the Individualist amongst DG's fragrances and presents itself completely in its own way. A more dreamy Eau de Toilette, on the other hand, is
18 La Lune
, the Moon, with its secret notes.