Instinct Sport by David Beckham
As a former professional football player David Beckham knows all too well that the men's changing ro…
Learn more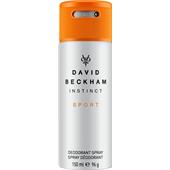 David BeckhamInstinct Sport Deodorant Spray
€9.19
/ 150 ml
BP: €61.27* / 1000 ml
5/5 AggregateRating
Instinct Sport Men's fragrances by David Beckham
As a former professional football player David Beckham knows all too well that the men's changing rooms don't exactly smell of roses. The perfume Instinct Sport, however, makes this a thing of the past, as the fresh fragrance ensures wonderful accords, is energising and is the perfect opening for a great match or a hard training session. Just like the other fragrances in the men's range of this brand, this scent is being used in other products as well. There is, for instance, a spray deodorant and a practical shower gel, which may be used to complement the perfume. A gift set is also available to provide a holistic atmospheric fragrance ensemble.
Sporty fragrance for men
Insinct Sport men's perfume from David Beckham was launched in 2012 and for its opening notes it uses fruity nuances that include mandarin and orange. This composition is complemented by ginger, which in the heart note is in turn complemented by aromatic notes, such as green apple and violet leaves. As so many of David Beckham's men's fragrances, this fragrance line also uses a warm and calming base, composed of earthy timbers, cashmere and sandalwood. Altogether this makes for a sporty perfume hit!