Iris Rose by E. Coudray
The
Iris Rose
perfume was created by the E. Coudray brand. The women's perfumes from this pr…
Learn more!
Iris Rose Women's fragrances by E. Coudray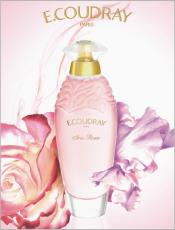 The Iris Rose perfume was created by the E. Coudray brand. The women's perfumes from this prestigious perfumery have always distinguished themselves thanks to their long lasting effect. E. Coudray women's perfumes reveal their scent after just a few seconds and accompany their wearer all day long. A
sensual aroma with an infatuating character.
Those who have already smelt the Iris Rose perfume will know of the sensual aromas. These are based on iris, rose and violet leaves. Tart aromas of tonka bean, patchouli and musk penetrate the sweet, fruity scent. With vanilla, laudanum and heliotrope, the perfume possesses a changeable character, which appears powdery and flowery. Let yourself be surrounded by a masterpiece of modern perfumery: this scent has already drawn in thousands of women all over the world!