Always Red Women's fragrances by Elizabeth Arden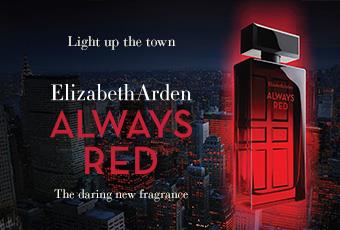 The women's fragrances of the tradition-rich American beauty company Elizabeth Arden have been given a remarkable sister: The perfume creation Always Red, wrapped in an enchanting red and black robe, enraptures with its composition of fruity and floral notes, spicy-woody aromas and the irresistable smell of chocolate. As a result, Always Red sets itself apart in the cosmos of women's fragrances with the exotic charm distinctive to a perfume with a pronounced "floriental" character, yet individualised through the seductive gourmet note. Always Red is an extremely attractive fragrance but is far too fine to ever be overpowering. This applies to both the eau de toilette and to the body lotion from the Elizabeth Arden Always Red line. Both are also available together in a gift set.
Always Red by Elizabeth Arden: outstanding fragrance notes in detail
In Always Red, carefully balanced perfume notes are blended together so that their irresistible attraction can unfold as a women's fragrance. In detail: The aroma of exquisite chocolates plays together with refreshing red plum, blood orange and passionfruit; an olfactory bouquet of delicate Arabian jasmine, velvety rose petals and bright red freesias give the perfume its feminine elegance and gentleness; finally, the sensual depths, which serve for the intensity of the fragrance, are reached through the warm notes of red amber and through the extravagant note of cashmere woods – an innovation of the perfume artists – in which the delights of distinct animalistic components and spicy wood blend together.
Always Red by Elizabeth Arden