Greene Street by Etro
The famous Milanese company ""ETRO"" has ventured into completely new territory with the Greene Stre…
Learn more!
Greene Street Unisex fragrances by Etro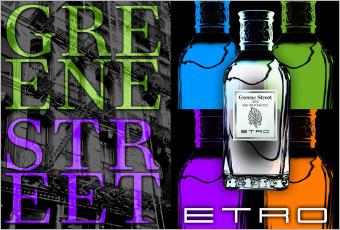 The famous Milanese company ""ETRO"" has ventured into completely new territory with the Greene Street Collection: Manhattan. The elegant perfume with the succinct name is an homage to New York's trendy Soho neighbourhood, which bustles with numerous performers, lateral thinkers, artists and actors, who in turn find their enjoyment in galleries, lofts and different cultures. The most varied lifestyles encounter each other on a daily basis in Soho. Greene Street unisex fragrances with their exciting composition are meant to reflect this very circumstance.
From Milan to New York - with just one perfume
The avant-gardist elements of the cult brand are furnished with modern accents, in order to impress in their own boutique in the Soho district as well. The Greene Street Fragrance with its unique fragrance nuance was developed in line with the new business. The interpretation is somewhat rebellious, adventure-loving and electrifying, thanks to the wonderful overture of nutmeg, pink pepper and basil. The heart is composed of resin, violet, geranium and incense, whereas the base is created from musk, rock rose, amber and talcum powder. The series also offers a matching shower gel and body lotion to the perfume.