Camicia 113 Women's fragrances by Ferré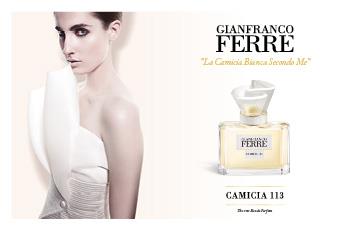 Gianfranco Ferré is one of the greatest maestros of haute couture and is known as the "architect of fashion". Even his white blouses stand out for the fact that they're not just any white blouses but white blouses by him.

The bottle of the Camicia 113 fragrance also has a fantastic, extravagant design, just like his fashion. Courage and elegance play an important role here. At the same time, it is mysterious with its poetry, harmonious and gives the impression of timeless style. Just like the packaging with the 113 sketch on it, the bottle could also be considered part of Ferré's fashion. This is a fragrance that is very wearable, just like his clothes. The bottle is in Ferré's own words, "La Camicia Bianca Secondo Me" – my interpretation of the white blouse. The fragrance is just as sophisticated and caresses your skin silkily and softly, like a special haute couture creation. It exudes the impression of an unmistakable beauty...