Beard grooming Skin care by Floid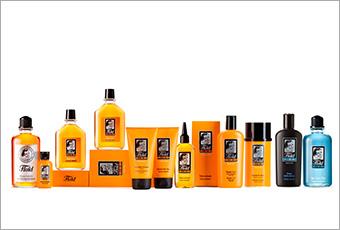 When it comes to finding just the right beauty products, men are just as discerning as women, if not more so. Care products shouldn't just fulfil their purpose but should also contribute to the appearance and character of the user. This especially applies to beard care, since the condition of the facial hair is patently and immediately noticeable to everyone. The manufacturer Floid, which has been producing cosmetics for men since 1932, has discovered an excellent recipe for success: The brand's beard care products exude authentic individuality, original creativity and elegance. The products are provided with a range of fragrances and are always unmistakably masculine.
Beard care by Floid
In the development of its care product collection for beards, Floid has very carefully made sure that you are provided with everything that you and your beard need. The range runs from shaving oil and shaving foam to aftershave to atomisers, which elegantly, refined and easily ensure the perfect fragrance note. Fans of the beard care products from the brand can also find amatching sets, which, for example, contain the oil and aftershave together.

All products treat your facial skin mildly and gently, protecting and caring for it. Several of the products are useful not only in beard or shaving care: The oil protects the skin from loss of moisture, for example. The cosmetic series has truly everything that the man needs.