You might also like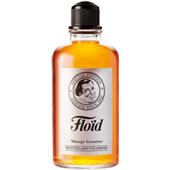 FloidBeard grooming Genuine After Shave Vigorous
BP: €119.67* / 1000 ml
Description by Hair care Tonic for grey hair by Floid
Product sub-line
: Skin care
Range
: Hair care
Description
: Tonic for grey hair
Hair care at its best
With the Floid hair care
Tonic for grey hair
you can now revitalise your grey hair. After only a few applications your hair will shine with a natural look which gives you a well-groomed appearance. The generation of the undesired yellow tinge is prevented. Instead, the natural colour of the hair is accentuated, however no colour elements are added. All ingredients are natural and skin-friendly.
Soothing care from your professional hairstylist
The
Tonic for grey hair
is based on an innovative formula. The hair care by Floid is known and proven and has been able to win over fans worldwide. Unfortunately, hair tonic has fallen more and more into oblivion in the past. Unjustly: Try it once, and you won't want to miss it. The hair tonic should be massaged into the scalp on a daily basis. When used regularly, you can benefit from a robust scalp and youthfully shining hair. This tonic was specially developed for grey and white hair.
Questions about the product?