Grey Flannel by Geoffrey Beene
As one of the first fashion designers in America and a true cosmopolitan Geoffrey Beene combines gre…
Learn more!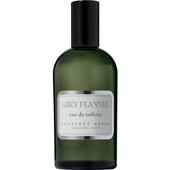 Geoffrey BeeneGrey FlannelEau de Toilette Spray
BP: €53.29* / 100 ml
Grey Flannel Men's fragrances by Geoffrey Beene
As one of the first fashion designers in America and a true cosmopolitan Geoffrey Beene combines grey flannel and perfume. The Eau de Toilette Grey Flannel created for the modern, active and cosmopolitan man was launched in 1975. This modest while at the same time remarkably elegant fragrance distinguishes itself through its subtle freshness. Grey Flannel is a confident and bold fragrance for men cultivating the art of discreet understatement.