Blue Cosmo by George Gina & Lucy
The women's fragrances from George Gina & Lucy, such as the
woody, fresh
Blue Cosmo, are very…
Learn more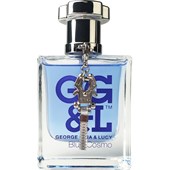 George Gina & LucyBlue Cosmo Eau de Toilette Spray
BP: €31.90* / 100 ml
Blue Cosmo Women's fragrances by George Gina & Lucy
The women's fragrances from George Gina & Lucy, such as the woody, fresh Blue Cosmo, are very special indeed. With every perfume, the designer presents you with a gift, two gifts in the case of Blue Cosmo. Besides the practical little carabiner clasp that hangs on the bottle, Blue Cosmo also comes with a beautiful bag. Carry your perfume home in it or present it as a gift wrapped up so prettily. Of course all the bottles of the George Gina & Lucy fragrances are always eye-catching, cheerfully colourful and straight. Thelight, buoyant fragrance of Blue Cosmo appeals to all those women who are content in themselves, who can laugh at themselves and who don't take themselves too seriously.
George Gina & Lucy - Blue Cosmo seductive and yet light
The fragrances from the well-known designer tend towards fruity melanges of berries and Blue Cosmo carries on in this tradition. The perfume's top note delights with bergamot, blackberry and raspberry, whilst the middle note begins with peach and then melds into neroli and lily of the valley. Sweet vanilla in combination with sandalwood and musk are responsible for the base note. The Blue Cosmo perfume from George Gina & Lucy will truly thrill all those women who prefer light fragrances. Young women can wear it just as well as those women who have a little more experience under their belts. The Blue Cosmo fragrance matches every occasion and every day. It can be worn winter or summer and simply makes for a good mood. Absolutely essential as a fresh perfume for every occasion.