Liquid Love by George Gina & Lucy
When fragrances are colourful and bring little gifts with them, you can almost be sure that they com…
Learn more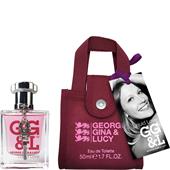 George Gina & LucyLiquid Love Eau de Toilette Spray
BP: €31.90* / 100 ml
Liquid Love Women's fragrances by George Gina & Lucy
When fragrances are colourful and bring little gifts with them, you can almost be sure that they come from George Gina & Lucy. The designers always come up with something different, whether it's in the bottles, which are sometimes modest, sometimes eye-catchingly colourful, or in their perfumes. The Liquid Love perfume, for example, was created by Christian Plesch and launched in 2015. With its epicurean-powdery fragrance, the perfume appeals to young women who approach life with self-confidence and who know what they want. Liquid Love has sensual but also cheeky notes, delighting and surprising with chords that are simply unbelievably aromatic. Fruity chords of bergamot, mandarine, grapefruit and the popular blackcurrant lead in the top note.
George Gina & Lucy - Liquid Love is simply enchanting
The middle note thrills with a fruity cocktail of peach, jasmine, coconut and apple. The base note is then truly epicurean with nuances of caramel, vanilla, tonka bean and musk. Fragrances with these aromas don't have to be heavy, as George Gina & Lucy - Liquid Love proves. Instead, the perfume wants to invite young women to experience the sensuousness of the powdery fragrance with subtle but present aromas and to go their own way. You can wear the unusual women's fragrances from George Gina & Lucy whenever you want and on any occasion. After all, the Liquid Love perfume also goes its own way and the popular carabiner isn't the only gift it brings. George Gina & Lucy send this perfume, too, on its way in a perfect, little bag in berry tones to match Liquid Love.