Evolution Men's skin care by Hildegard Braukmann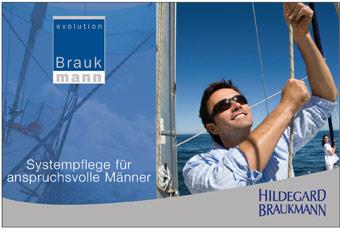 With the men's care Evolution Hildegard Braukmann speaks to active, sporty men who want to experience an attractively groomed appearance as a permanent part of their image. The range offers highly modern herbal cosmetics for all-round care - from face and beard, to body, to deodorant and scent.
Evolution - the perfect start to a successful day
With her cosmetic range Hildegard Braukmann is dedicated to the theme of shaving with her interpretation of the classic Pre-shave Lotion, Shaving Cream, After Shave Lotion and After Shave Balm. Since a fresh, relaxed face looks good on every man, the men's care by Hildegard Braukmann offers a comprehensive program from cleansing with intense moisture, to 'specialists' such as the Anti-Aging Facial Fluid, a special roll-on for eyes and an Anti-Stress Instant Mask.In the shower the Body and Hair Shampoo lays the foundation for an active day. The Deodorant from the cosmetic range comes in a gentle, alcohol-free stick and as a natural spray.As a charming companion throughout the day, the fresh, elegant Evolution Eau de Toilette lends a perfect touch of dynamic masculinity.