Herbal Garden by Hildegard Braukmann
Herbal Garden by Hildegard Braukmann is a perfume for women who love feminine fragrances with an aro…
Learn more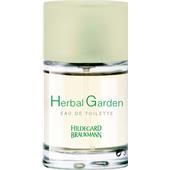 Hildegard BraukmannHerbal Garden Eau de Toilette Spray
BP: €29.83* / 100 ml
Herbal Garden Women's fragrances by Hildegard Braukmann
Herbal Garden by Hildegard Braukmann is a perfume for women who love feminine fragrances with an aromatic, refreshing and zesty scent. The feminine fragrance maintains a citrusy freshness with top-notes of fruity mandarin and herbal lemon. The central notes and delicate green colour of the summery fragrance are produced by fresh basil and aromatic thyme. The warming aroma of wood and amber round out the base notes of the feminine fragrance.
Herbal Garden - refreshingly zesty feminine fragrance with aromatic notes
This perfume by Hildegard Braukmann is available as an Eau de Toilette Spray in a small flaçon with atomiser. The aromatic, fresh fragrance is ideal for women with normal skin due to the valuable natural ingredients. The perfume is perfectly suited for daily use and can be applied mornings or evenings after showering, as well as in the meantime. The small flaçon fits in any handbag. With Herbal Garden by Hildegard Braukmann women can wear the scent of a fresh, sunny summers day.