Vetiver & Chocolat by Hildegard Braukmann
Hildegard Braukmann has been counted among the leading suppliers of natural cosmetics for over 50 ye…
Learn more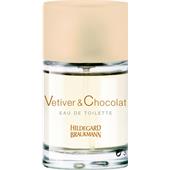 Hildegard BraukmannVetiver & Chocolat Eau de Toilette Spray
BP: €29.83* / 100 ml
Vetiver & Chocolat Women's fragrances by Hildegard Braukmann
Hildegard Braukmann has been counted among the leading suppliers of natural cosmetics for over 50 years. The women's fragrances also profit in the same way as the care products do from this expertise and experience. Natur Pur also characterises their sensual and enchanting perfume Vetiver & Chocolate.
Warm, profound and seductive - naturally erotic
Intensely woody and earthy with a hint of chocolate - naturally enchanting, this perfume by Hildegard Braukmann draws you into its spell.Echoes of lily of the valley and hazelnut welcome you in the top notes. Shortly after, the erotic effects of the central notes fascinate: The earthy-woody aroma of vetiver with it's dark accents of ambergris and leather are shot through with a sweet hint of chocolate. Vetiver & Chocolate gets its gentle stability from base notes of sandalwood, tobacco and the warm vanilla and soft almond reminiscent effects of the tonka bean.Hildegard Braukmann offers Vetiver & Chocolate - as with all of their women's fragrances - as an Eau de Toilette.