Hyde Park by Hugh Parsons
Hyde Park by Hugh Parsons was inspired by the eponymous urban garden, which is one of the most well-…
Learn more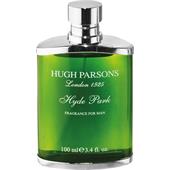 Hugh ParsonsHyde Park Eau de Parfum Spray
BP: €1,009.50* / 1000 ml
Hyde Park Men's fragrances by Hugh Parsons
Hyde Park by Hugh Parsons was inspired by the eponymous urban garden, which is one of the most well-known inner-city green areas in the world, and creates the "green lung" of London along with other royal parks. The various themed gardens and plant types, such as the rose garden, create unique visual and olfactory experiences. The in-house perfumer of the label, Maurizio Cerizza, has been inspired by the flair of Hyde Park for this perfume. The top note of these men's fragrances begins with the green notes of fig leaves, the citric accents of bergamot, angelica and spicy pink pepper. These aromas are overshadowed by Davana and the fruity green notes of blackcurrant. The heart combines Damascus rose and Arabic jasmine with a fig aroma. Hugh Parson's perfume Hyde Park is completed with vetiver from Haiti, fig tree tones and woody patchouli notes in an aesthetic combination with notes of incense, laudanum, musk and amber.
Men's fragrances for the modern man
The brand Hugh Parsons was founded by Hugh Edward Lancelot Parsons and his wife Gladys in London's Regent Street in the twenties. Originally, the company mainly produced silk ties and accessories. Soon, the company became a leader in its sector and is represented across the world today. The label has always represented elegance, quality and British tradition. Since 1998, these qualities have also manifested themselves in the men's fragrances sector. The perfume developed under this brand name, including Hyde Park, is a suitable fragrance for the modern man, who is undoubtedly a gentleman - there is no other way.