Eau Radieuse by Humiecki & Graef
The Radieuse Eau de Toilette Spray from Humiecki & Graef is an extravagant re-interpretation of the …
Learn more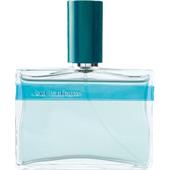 Humiecki & GraefEau Radieuse Eau de Toilette Concentrée Spray
BP: €176.00* / 100 ml
Eau Radieuse Unisex fragrances by Humiecki & Graef
The Radieuse Eau de Toilette Spray from Humiecki & Graef is an extravagant re-interpretation of the classic Eau de Cologne. The cool, ice-blue flaçon, captivating in its clear straightforwardness, highlights the characteristic, futuristic touch of this unisex fragrance with a certain something. Fruity and discreetly herbal, this top-class perfume has an interesting combination.
Between fruit and mint with menthol
A hint of fruit gives Eau Radieuse an appetising freshness with a spritz of sensuousness. Summery bananas interact with the striking rhubarb and a hint of lemon in an enticing way. In order to highlight the special coolness of an Eau de Toilette Spray, the perfumers at Humiecki & Graef have added a refreshing note of mint and menthol to the mixture. Like all unisex fragrances, the relaxed and cool Eau Radieuse from Humiecki & Graef appeals to the senses of men and women equally. The extraordinarily composed Eau de Toilette Spray is a creative homage to Eau de Cologne and interprets this classic in an intelligent and innovative way.