L'Art de la Guerre Unisex fragrances by Jovoy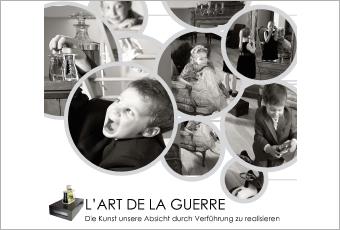 The L'Art de la Guerre unisex fragrances from Jovoy reflect the good and the great conquests of life, beginning in childhood when we secretly sampled our parents' perfume, right the way through to our first romantic conquest that left our heart racing. L'Art de la Guerre literally translates as "the art of war". For François Henin, owner of the perfume house Jovoy, also sees perfume as an "art of war" capable of evoking feelings and memories through its aroma. From the very first scent, these unisex fragrances delight with their intense hints of rhubarb, which spill into a striking fougère of lavender, oak moss and coumarin. This noble fragrance is rounded off with aromas of smoky immortelle flowers, refined with spicy and woody notes. Thus L'Art de la Guerre is perfect for groomed, freshly shaven men who attach importance to their appearance and fragrance.
Luxurious fragrances with depth
As early as the 1920s, Blanche Avroy, heart and visionary of the perfume house Jovoy, was bewitching others with exceptional fragrances. Her luxurious perfumes were bottled in handmade glass flaçons and offered in high-quality boxes. Still today, perfume collectors bask in nostalgia when it comes to this virtuoso of perfumery. A few years ago, François Henin took on the label and gave it a complete image overhaul. Together with respected perfumers such as Marc Fanton d'Anton, Jaques Flori, Michel Saramitot and Cécile Zarokan, he developed new perfumes including the unisex fragrances described here, which are distinguished by their powerful depth and leave a long-lasting impression.
L'Art de la Guerre by Jovoy