Accessories by Kilian
Elegance and luxury aren't necessarily an essential part of life – but they certainly make it more e…
Learn more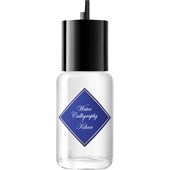 KilianAccessoriesWater CalligraphyEau de Parfum Spray Refill
BP: €209.90* / 100 ml
Accessories Accessories by Kilian
Elegance and luxury aren't necessarily an essential part of life – but they certainly make it more enjoyable. This was also the opinion of legendary perfumer Kilian Hennessy, who was not content simply with creating exceptional fragrances but instead wanted to restore the incomparable magic and luxury that once surrounded them. As a consequence,
Kilian Hennessy created incomparable accessories
which meant that the perfume would not just appeal to one of the senses. Naturally, we can still enjoy the incomparable fragrances, but the exquisite flaçon also enchants the eye with its unrivalled value.An initially strict-looking design reveals a richly worked ornamentation that is classic in style, processed so finely that it is a pleasure to behold and caress with the fingertips. In such a flaçon, the most exclusive perfume is also in good keeping and thus makes a great everyday or travel companion that will remind you to live life as stylishly as possible. A little luxury is no sign of decadence, but rather taste and style.