Asian Tales by Kilian
Following the successful launch of the first two by Kilian collections – L'Oeuvre Noire and Arabian …
Learn more!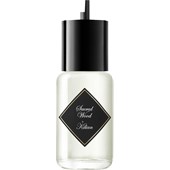 KilianAsian TalesSacred WoodEau de Parfum Refill
BP: €271.90* / 100 ml
Asian Tales Unisex fragrances by Kilian
Following the successful launch of the first two by Kilian collections – L'Oeuvre Noire and Arabian Nights – Kilian whisks us off on another voyage of discovery, to a new culture – Asia, the land of a thousand impressions and likewise the name for the new collection: Asian Tales – a collection of 5 fragrances; 5 olfactory harmonies, inspired by 4 Asian tales: The Tale of the Bamboo Cutter (Launch 2012), The Peony Pavilion (Launch 2013), The Peach Flowers Water Source (Launch 2014), and The Lotus Flower and the Dragon King (Launch 2015). With this new unisex collection, KILIAN whisks us off on another exciting voyage of discovery of a new culture. ASIAN TALES was originally conceived of as an olfactory voyage – but developed, as one came to recognise the significance and dimension of the symbols and words behind the project, into a spiritual experience. When the creative process got underway, every detail was drawn up with the greatest care and arranged in such a way as to bow in awe of this magnificent culture.This olfactory voyage begins with the fragrances: WATER CALLIGRAPHY: a scent that pays tribute to the great art of calligraphy BAMBOO HARMONY: inspired by an Asian story called "The Tale of the Bamboo Cutter".