Hair care by Korres
Well-groomed hair not only feels beautiful, it also looks simply stunning. The Greek Korres brand of…
Learn more!
Hair care Skin care by Korres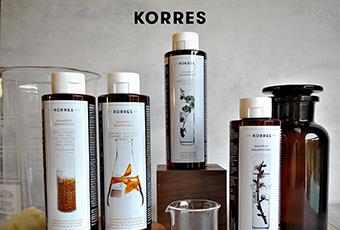 Well-groomed hair not only feels beautiful, it also looks simply stunning. The Greek Korres brand offers a quick remedy to ensure your hair is not too heavily burdened by external influences and styling products. The brand's hair care consists of an anti-dandruff treatment, conditioner, the appropriate shampoo and a regenerating hair mask. Korres also offers its own styling gel to ensure the styling proceeds effectively, is optically captivating, but is also gentle at the same time. All products come in a pure white design embossed with the cosmetic ingredients.
Care with a curative and preventative effect
The hair care products are not just intended to have a regenerating effect, but also to prevent hair breaking off and split ends. Regular treatment with the cosmetic results in easy to comb hair that regains its natural gloss and a beautiful structure. This care effect is enhanced by pleasantly fragrant ingredients that ensure a good start to the day. Just small amounts of the valuable essences are enough to give hair and scalp a regenerating treatment.