Cleansing by LAB Series
LAB SERIES provides products for cleansing the skin which
have been planned, developed and produ… Learn more
Cleansing Cleansing by LAB Series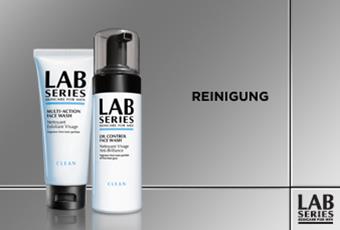 LAB SERIES provides products for cleansing the skin which have been planned, developed and produced using the results of scientific research The cosmetics can be used every day and are compatible with every skin type. There are, however, also products available for specific types of skin. Scientific standards and research are very important for the brand. The use of unnecessary ingredients is avoided and the black and white packaging is unpretentious. The high-quality products can be combined with one another and are particularly good for people with problem skin.
Effective and quick skin care created by experts
. The products are predominantly for cleansing the skin and use a number of different cleansing techniques. From classic face wash to intensive cleanser and face scrub, an exfoliator, an array of techniques are available for a variety of skin types. This means that the right product can be selected for the right skin type. The wearer should therefore already know what his skin type is or find it out before using the product. Most people in Germany have normal, combination or dry skin. The Lab Series products are ideal for all of these skin types.