Shaving by LAB Series
LAB SERIES shaving products
are scientifically based
and therefore enable a gentle shave, whi…
Learn more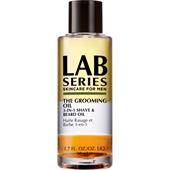 LAB SeriesShavingThe Grooming Oil3-in-1 Shave & Beard Oil
BP: €55.90* / 100 ml
Shaving Shaving by LAB Series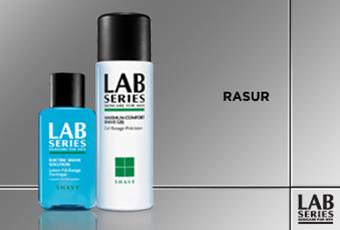 LAB SERIES shaving products are scientifically based and therefore enable a gentle shave, which doesn't irritate, blemish or inflame normal or sensitive skin. As with all LAB SERIES products, the shaving series forgoes unnecessary ingredients and only uses ingredients, which really benefit the skin. The brand offers about half a dozen different cosmetics, which can be selected individually depending on skin type and beard.
A nourishing, thorough and gentle shave
LAB SERIES cosmetics come in containers bearing a minimalistic design with black and white colours that create a great contrast. All of the brand's cosmetics are clinically tested prior to being released. This means that the formula is as compatible and effective as possible. The products are perfect for multiple use during the week but can, of course, also be used less often. They comfort the skin before, during and after shaving. All of the products are very rich and the application of only a small amount of the soothing ingredients is therefore sufficient.