Skin care by LIGNE ST BARTH
When producing body care products, the Ligne St Barth brand puts its faith in a rich selection of na…
Learn more!
Skin care Skin care by LIGNE ST BARTH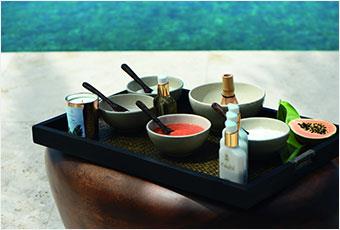 When producing body care products, the Ligne St Barth brand puts its faith in a rich selection of natural ingredients whilst the fragrance experts of course do not ignore the other facets of luxurious care. Cosmetics not only care for men and women's skin intensively but also smell heavenly good, thanks to the various selected ingredients - some of these come directly from the French Caribbean where the Ligne St Barth brand has its roots. The wide ranging selection of care products pampers skin, hydrating it, cleansing it and wrapping it up in a delightful fragrance veil that will still be just noticeable hours after application.
Body care that also meets the highest demands
Ligne St Barth works with countless tropical and Caribbean ingredients. One of the absolute classic of the brand is coconut oil which consistently hydrates skin and of course also smells pleasantly of coconut milk. Apart from this, however, even more fruits and plants are used in other products. Avocado Oil gives skin a laconic shine, whilst a Peeling Shower Cream with Papaya has a particularly gentle effect on skin - and smell delightful. The Shower Gel from Vetiver could be a good addition, since its very delicate fragrance go excellently with a relaxing shower in your own bathroom.
Huge choice of high-quality cosmetics
The range is not "simply" limited to hydrating body care products, however, and offers countless additional products. Peelings gently remove dead skin flakes from the top layer of skin, meaning pores and cells can breathe freely again. A Massage Oil ensures romantic hours with your loved one, whilst a Hand Cream is absolutely indispensable in winter. Apart from this, the Ligne St Barth brand also offers Shampoos and Luxury Soaps which can be used to target and pamper particular parts of the body. What is always guaranteed, however, is the heavenly scent of each individual product.