Steampod by L'Oréal Professionnel
If you have naturally curly hair, you will want to be able to tame your mane for different occasions…
Learn more!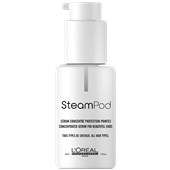 L'Oréal ProfessionnelSteampodProtecting Concentrate Beautifying Ends
BP: €23.46* / 100 ml
Steampod Hair care by L'Oréal Professionnel
If you have naturally curly hair, you will want to be able to tame your mane for different occasions. The use of straighteners has been established for decades but unfortunately these are not always gentle on the hair and make reconstructing haircare worthwhile. With the Steampod product range L'Oréal Professionnel, a brand known all over the world tackles these problems and combines a high-quality device for straightening with a supplementary haircare product. Gentle and without too high temperatures, every hair type can be smoothly straightened with the high-tech steam straighteners and enjoy a larger variety of hairstyles.
Gently straighten hair with L'Oréal Professionnel
Of course, hairstyling with straighteners even with mild use involves stress for the natural hair. With its many years of experience as a supplier of care products, L'Oréal Professionnel presents supplementary creams to the Steampod product range which immediately remove small weaknesses. Even with regular use of straighteners, the healthy character of each individual hair is retained through this. If you want to care for your head of curls in another way or want to rely on professional hair cosmetics for another hair type, you can also find these in our online shop.