Scented candles Fragrance accessories by Maison Francis Kurkdjian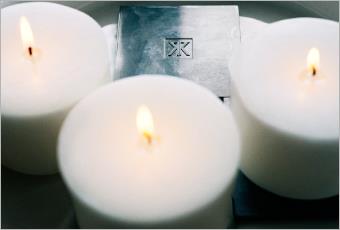 The Scented Candles by Maison Francis Kurkdjian are aligned with the fragrance bearing the same name and exude pleasant fragrance nuances that can fill an entire room really quickly without being too strong or intense. The fragrance accessories are typically designed in a really bright manner and fit seamlessly into classic or modern interiors, which is why they are not just used for pollination purposes but are also a real eye-catcher in a room too. The economical 385 g candles can be lit many times; here, the burning time also regulates the intensity of the fragrance too.
Natural fragrances with an international flair
Just like the perfume by Maison Francis Kurkdjian, the fragrances are created by using various essences that originate from all over the globe. Maison Francis Kurkdjian is one of the most experienced and internationally renowned perfume houses, which is why you can expect a clear, unique and pleasant scent in both the perfume as well as the candles. The candles can of course be swapped between different rooms so as to be able to generate a pleasant scent throughout the entire flat or house using just a single candle.
Scented candles by Maison Francis Kurkdjian