Apom Homme Men's fragrances by Maison Francis Kurkdjian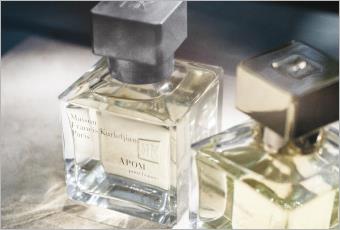 The premium "Apom Homme" fragrance range by Maison Francis Kurkdjian was inspired by the natural beauty of men, aiming to reflect harmony and tranquility in the scent. Apom is an abbreviation of "A Piece Of Me" and is available both for men as part of the Homme range referred to here, as well as for women as part of the Femme range. The men's fragrances exude a pleasantly Oriental touch that is already recognised as a hallmark of Maison Francis Kurkdjian's other fragrance creations. According to some stories, the perfumer discovered his inspiration for this range when travelling through Lebanon, which is why the fragrance also aims to channel both nature as well as the landscape.
Effective fragrance for men
The fragrance in the Apom Homme range comes in a crystal flaçon executed by the designer Fred Rawyler. This individual managed to achieve international fame with his work for Hermes, and is considered to be a true master of his craft. The transparent flaçon is adorned with a massive silver cap, which ensures the essences are kept safely and effectively in place. The fragrance itself comprises just three ingredients that are all channeled into the top note. Fruity orange blossom meets warm ambergris and cedar wood.
Apom Homme by Maison Francis Kurkdjian