Amyris Femme Women's fragrances by Maison Francis Kurkdjian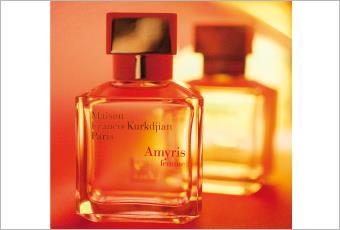 With Amyris Femme, the experienced perfumer Francis Kurkdjian, who has also already worked for other brands as well, has managed to create a really unique product. The fragrance bearing the same name that was the inspiration behind this range makes use of fruity orange and zesty lemon blossom in the top note, before moving on to the rare ingredients of iris and amyris in the fragrance's heart note. The base for this creation consists of ambergris and vetiver, thus creating a sensual and warm finale to this scent.
As interesting and invigorating as a blazing flame
The women's fragrances by Francis Kurkdjian are known for their unique scent, particularly given that the perfumer Maison Francis Kurkdjian is considered to be an absolute master of his craft. The Amyris Femme range is no exception to this, as the extravagant fragrance knows exactly how to impress right from the very first moment. It captures the earth's vibrations, taking inspiration from the vibrant sun and makes use of a floral bouquet to help give the scent a friendly and inviting note. Along with ambergris, the base also includes an animalistic chord, the sensuality of which is, however, not lacking here.