Lumière Noire Femme Women's fragrances by Maison Francis Kurkdjian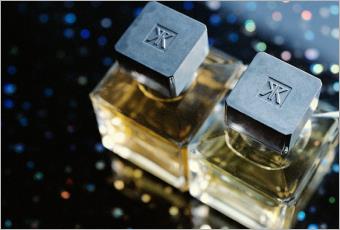 Lumiere Noire Femme by Maison Francis Kurkdjian is an Eau de Parfum Spray designed for elegant women who love really special women's fragrances. The opposing forces of Lumiere and Noir, i.e. light and dark, are combined together in a fragrance that expresses itself by way of a composition of rose and patchouli. The woody and mossy women's fragrance delicately covers your skin and is both fresh and intense at the same time. The Lumiere Noire Femme women's fragrance contains the finest aromas and oils obtained from rose, cumin, pepper, patchouli and narcissus in its top note.
Lumiere et Noir - opposites attract
This fragrance by Maison Francis Kurkdjian is sold in a beautiful flaçon made from premium crystal glass that was specially designed for this women's fragrance. The flaçon fits into any make-up bag thanks to its straight and rounded edges. Each cap is one of a kind and is made from a zinc alloy, paying homage to the designer's home-town of Paris. Women's fragrances, such as Lumiere Noire Femme by Maison Francis Kurkdjian, are as unique and special as the women who wear them, from the fragrance itself right down to its packaging.
Lumière Noire Femme by Maison Francis Kurkdjian