Energizing Woman Women's fragrances by Mexx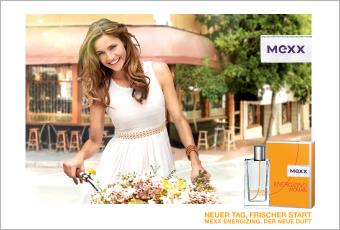 Energizing Woman eau de parfum belongs to the family of inspiring women's fragrances by MEXX. With its intensely floral, fresh scent, the perfume makes an ideal day-to-day companion. The fragrance refreshes and invigorates, whilst giving the wearer an instant sense of well-being.
Energizing Woman exudes positive energy
and engenders a day full of creativity and vitality. The tingly top note of crisp apple, fresh orange and juicy water melon lends the perfume an early morning exuberance. Pink guava, tropical raspberry and rose blossom form the exotic middle note. The base note is a combination of amber wood and soothing musk for feminine charm. The Energizing Woman women's fragrances by MEXX are available as a series. As well as the eau de parfum spray, this also includes eau de toilette, a body lotion, two deodorants and a shower gel. Equally attractive is the Gift Set. The international MEXX fashion label was created in 1986. The company is based in Amsterdam in the Netherlands. Alongside fashion, shoes and eyewear, the company also offers lifestyle products and women's fragrances.
Energizing Woman by Mexx